Light Weight Electric Heated Socks for Active Sports
This sock is thinner than our other electric
socks. Both the fabric of the sock and the thickness of the heating pad have been
slimmed down to to be worn inside an athletic shoe. This sock is convienent for mountain biker, skiers, and hikers. Available in size large only.
The basic Thunderbolt electric sock kit contains a pair of heated, high-quality socks coupled to a state-of-the-art rechargeable battery pack. With a high-low power selection switch waist-mounted control box. The control box features a built-in LED which gives an indication of high or low heat settings and shows the state of charge of the battery. Also included is a 110 volt "smart" battery charger.
One cable from each sock is normally run up the leg between long underwear and outer pants and exits at belt-level. The cable connects to the controller/battery pack, which may be clipped to the belt on either side of the waist.
The battery pack is quite light, weighing just
13 ounces with carrying case and attached
control box.
---
Liner Socks
We recommend a liner socks be worn inside the thunderbolt electric socks. This allows the user to wash the liner socks frequently and hand-wash the electric socks less often.
Any thin sock may be used as a liner, but we offer a high-quality liner sock especially designed to wick away perspiration. Our recommended liner socks feature:
1. X-Static silver coated nylon to help eliminate foot odor naturally.
2. Silver provides natural thermal conductivity to even out foot temperature.
3. Smooth, flat toe seam for maximum comfort.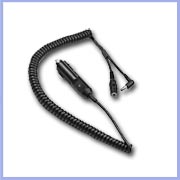 Thunderbolt 12 Volt Charger Cable
Charge your battery pack in your vehicle! The portable auto adaptor plugs into a 12 volt cigarette lighter outlet. The adapter is quick and easy to use, and it allows you to charge your battery on the go AND power the socks at the same time (for NiMH battery packs only).